Tornadoes on Tape: McCaskey's Home Videos Go Digital
Tornadoes on Tape: McCaskey's Home Videos Go Digital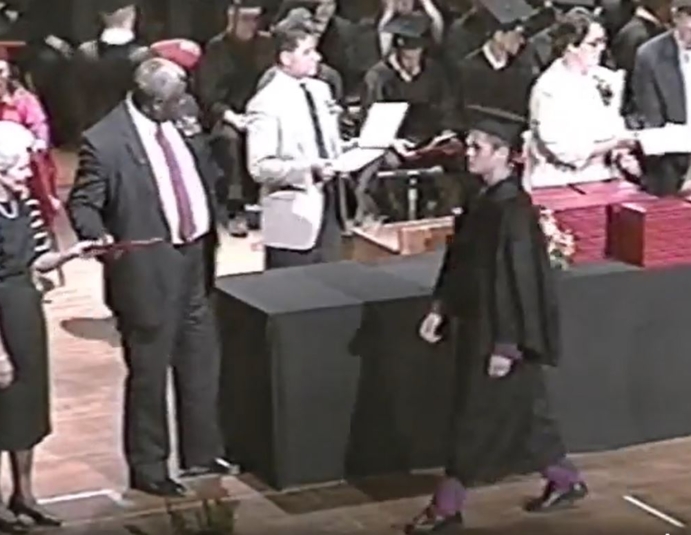 Much excitement has been expressed in recent weeks on social media regarding the numerous McCaskey graduation videos that have surfaced on YouTube. These digital products are the result of an exciting new collaboration between the McCaskey Alumni Association and a local do-gooder named David Benner.
Those who have been frequent visitors to the Alumni Center on the second floor of McCaskey High School over the years may recall a large stack of video tapes on a shelf adjoining the yearbook collection. Graduations, proms, sporting events, musical concerts and various other McCaskey events were among the recorded memories collecting dust.
In recent months, the Alumni Association has become aware of the work of Mr. Benner, a 1989 Manheim Township graduate who digitizes VHS tapes for high schools as a hobby. All videos in the Alumni Center collection have been loaned to Mr. Benner who has been volunteering his time and equipment to digitize them.
"I was a volunteer at a local nursing home for five years," Benner recently explained, "but when COVID hit I was no longer allowed to visit or assist the residents. Being stuck at home I was looking for another way to serve, and that's how it started."
Benner had digitized and uploaded high school videos for his brother in the past and he remembered the positive reaction those uploads prompted from Township alumni. He started buying inexpensive videos of high school events from across the country on EBay and uploading them to his own YouTube channel, which he calls Heaven-Sent Memories.
"These high school videos are hard to come by," Benner added, "so when there weren't any left I started buying choir and band record albums. I now have over 550 videos and albums uploaded. It makes me feel good to see how happy it makes people."
The Alumni Association plans to continue working with Benner on digitizing as many audio and video recordings from McCaskey's history as can be unearthed. While the files are being uploaded to Benner's YouTube channel, they are also being archived and shared on social media by the McCaskey Alumni Association.
"It is a relief to see these perishable archives immortalized," said Jeremiah Miller, Coordinator of Alumni Affairs. "Our McCaskey community owes Mr. Benner a huge debt of gratitude for taking on this project."