Henry Norwood "Barney" Ewell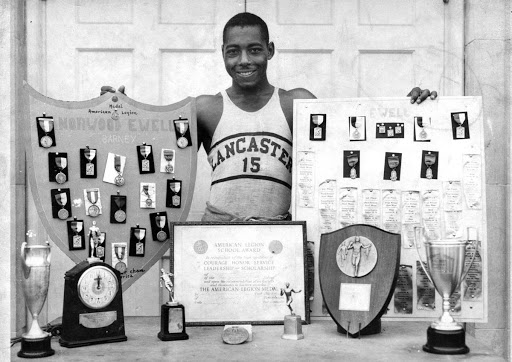 Henry Norwood "Barney" Ewell (1918-1996) was born into poverty in Harrisburg, PA and grew up in Lancaster's Seventh Ward. He reportedly took up running in grade school to regain the strength of his left leg, which had been paralyzed by polio—the first great irony of his life. At East Junior High School, now known as Hazel I. Jackson Middle School, Barney joined the track team and exhibited speed comparable to the country's greatest collegiate sprinters.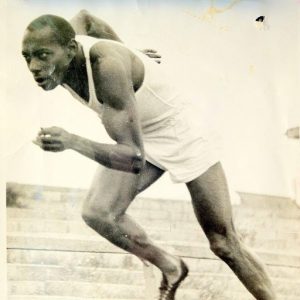 After graduating with J.P. McCaskey High School's inaugural class of 1938, he entered Penn State University, where he established himself as "the fastest man in the world," breaking the world record for the 50-yard dash with a time of 5 seconds. Cancellation of both the 1940 and 1944 Olympics due to World War II devastated his Olympic dreams, but he continued to dominate the track and field notices on sports pages across the country while serving with distinction in the Army, establishing himself as one of the leading sprinters and broad jumpers of the 1940s. At the age of 30, he surprised everyone at the 1948 Olympic Trials, not only qualifying for the Olympic team, but matching the world record for the 100-meter dash. That summer, at the Olympics in London, he shared photo finishes in the 100-meter dash and 200-meter dash, earning a silver medal in both and missing the gold by a fraction of a second. His lightning speed in the first leg of the 4×100-meter relay led the American team to an easy victory, but Barney's baton pass was ruled "out of zone," and the American team was disqualified. Led by Barney, the American team protested, and, for the first time in Olympic history, the judges reversed their ruling based on film footage, clearly showing that Barney had not stepped out of the restraining zone. Barney Ewell was finally an Olympic Gold Medal-winner. Following the Olympics, he returned to Lancaster's Southeast where he remained for the rest of his life and became known for his gregarious spirit and regular visits to Central Market. In 1984, he retired from the Warner-Lambert Company, where he had worked for 30 years. J.P. McCaskey High School dedicated its Barney Ewell Sports Complex in 1989. In the second great irony of his life, Barney's last days were spent at Conestoga View where he lost both of his legs to amputation, due to complications from diabetes. For his military service, he was laid to rest in Conestoga Memorial Park Cemetery.