Barney Ewell Legacy Committee
A bronze statue of McCaskey graduate and Olympic sprinting champion Barney Ewell (1918-1996) is currently scheduled to be dedicated in downtown Lancaster in 2022! This project represents the culmination of the Barney Ewell Legacy Committee's (BELC's) work to establish a permanent and community-wide recognition of the once "fastest man in the world" and proud Lancastrian.
BELC is currently undertaking the artist selection phase of this project. For information related to the formal Request for Proposal (RFP) for artists interested in this project, please contact Coordinator of Alumni Affairs Jeremiah Miller at jeremiahlmiller@sdlancaster.org.
The Barney Ewell Legacy Committee (BELC) formed in 2016 to establish a community-wide and permanent recognition of McCaskey graduate and Olympic sprinting champion Barney Ewell '38. In February 2018, BELC organized Barney Ewell Week, hosting a series of free events throughout Lancaster City commemorating the 100th anniversary of Ewell's birth. Among these events was the dedication of "Barney Ewell's Neighborhood," an installation of two informational panels in a parklet near Ewell's longtime home in Lancaster's Southeast. The panels drew awareness of Ewell's career accomplishments and his connection to the neighborhood. Later in 2018, BELC dedicated a Pennsylvania State Historical marker honoring Ewell on the campus of J.P. McCaskey High School. In 2019, BELC saw the renaming of Lancaster Square as an opportunity to recognize Ewell in a central and permanent way in Lancaster City and launched the successful campaign to establish Ewell Plaza.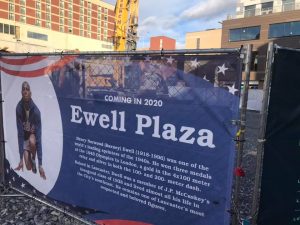 The culmination of the group's efforts is the installation of a statue of Barney Ewell in downtown Lancaster. BELC is currently working with Lancaster City's Public Art Advisory Board (PAAB) toward this commitment. BELC will commission a sculpture by a Pennsylvania artist. The statute itself will be a life-sized (or somewhat larger-than-life-sized) bronze, photorealistic depiction of Ewell in a runner's pose, which will be approved by BELC, the Ewell family, and a representative from PAAB. The statue will be mounted on a durable, attractive base. The entire project will be carried out within the budget created from funds raised by BELC.
Watch Breaking Through: The Barney Ewell Story, a video about Mr. Ewell's life and athletic career, produced by the Barney Ewell Legacy Committee and the McCaskey Alumni Association.