"Newsies" and Oldies: Performing Arts History on Display for Spring Musical
"Newsies" and Oldies: Performing Arts History on Display for Spring Musical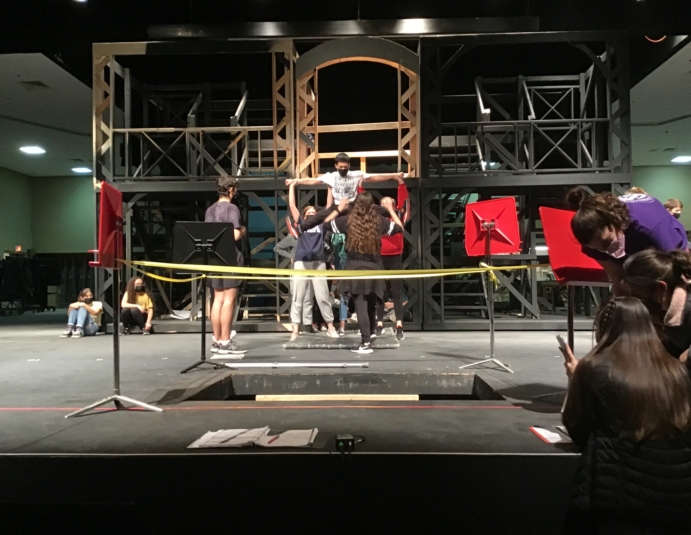 The J.P. McCaskey Auditorium is once again booming with song and dance. A venerated annual event that has always been a favorite example of McCaskey excellence, the Spring Musical, is back.
The hugely popular Broadway product Newsies, McCaskey's first musical since Covid-19 cancelled 2020's never-to-be-performed The Addams Family, will run March 16-20. Newsies will be the 54th musical performed at McCaskey, and the latest offering by a performing arts program with a long history. In conjunction with the musical, the McCaskey Alumni Association will hold an open house in the Alumni Center at the high school to exhibit some relics of this vibrant past.
The McCaskey Alumni Association's performing arts exhibit will have as its centerpiece a collection of theatre posters created between 1939 and 1957 by the students of McCaskey's first art teacher, Pauline Stauffer. Stauffer retired in 1960, at which time she became Lancaster City Schools' Director of Art Education. An anonymous donor donated the Stauffer poster collection, which includes thirty-seven posters total.
"Stauffer, McCaskey's first art teacher, included poster design in the arts curriculum from her start," wrote John Krill '61 in a 2018 Alumni Vidette article, an art conservator who assessed the collection. "It was used to teach printmaking techniques, design, and criticism."
The Alumni Association's exhibit, which will also display various performing arts photographs, playbills, and news articles spanning the entire history of the high school, will take place from 3:30 PM to 6:30 PM on Thursday, March 17 and Friday, March 18th.
Newsies will be performed at 7 PM from Wednesday, March 16 through Saturday, March 19, with a 2:30 PM matinee Saturday, March 19 and Sunday, March 20. Tickets can be purchased at the School District of Lancaster's website.