An Interview with Cam Automotive Owner Jon Cameron '02
An Interview with Cam Automotive Owner Jon Cameron '02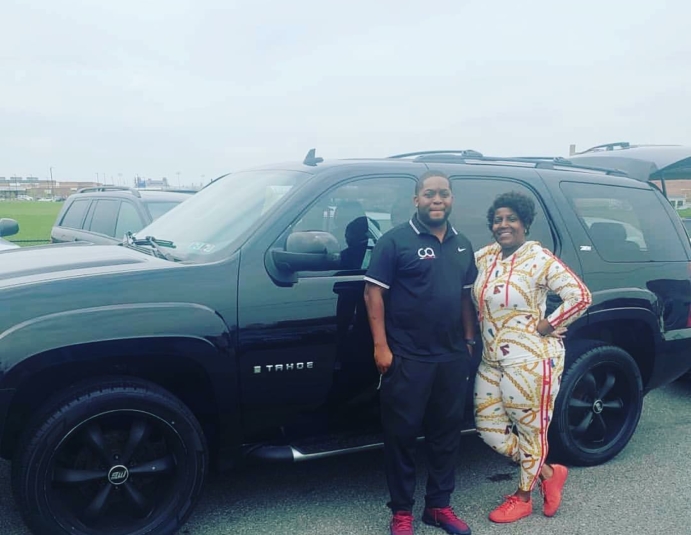 Jon Cameron '02 (seen above with his sister Tyrsa) is a graduate of Morgan State University and has been the owner and operator of Cam Automotive since 2012. We recently visited him at his business location, 1031 Manheim Pike, to ask him about his career and his experience as a McCaskey student and standout basketball player.
McCaskey Alumni Association: Tell our alumni about Cam Automotive. What services do you provide here?
Jon Cameron: Cam Automotive is a retail car lot. Our first function of business is to sell vehicles. At the same time as we're putting these vehicles out for retail sale, we service our own vehicles. We have a full-service shop here, and we detail out of the shop also. Our clientele base that we've built through selling the vehicles sometimes like to come back and service their vehicles here also. We offer service to the outside but primarily to the customers that have purchased from Cam Automotive.
MAA: What area of Lancaster did you grow up in and where did you go to elementary and middle school? 
JC: I was raised over at Wabank and Fairview by the Rec Center and went to Price. I started playing basketball in an elementary school league in fifth grade. A friend of mine named Niquan Lee was with me in that league. So was Perry Patterson, and a few other guys. We all ended up playing together at Wheatland, and then we all joined Jerry Johnson and his brother, Julius, and Bobby Eberhart, Anthony Gibson, and Dustin Salisbury at McCaskey. There had been some rivalry within, but once we all came together in a hybrid at McCaskey, we became a brotherhood. 
MAA: You all were the district champions, and it was a golden age for McCaskey Basketball. How did that shape your future?
JC: They were great times. It was a brotherhood that developed young. We all knew our roles, including me, a little point guard at the time. We stuck together inside the classroom, outside the classroom, and we developed a sense of community. We knew we were part of the community and needed to stay at a certain level to represent well— to represent Coach Steve Powell, rest in peace. He was like another father to all of us. Going forward, and to get back to the origin of your question, we're still like this. Jerry went and played pro, Dustin went and played pro, Perry had stints in pro-football. Niquan Lee, Brandon Way, all of us went to college and graduated. We all had different avenues, but we remain tight-knit. More so now. We're into business ventures, we're linked up together. We're now fathers and businessmen in the community. We bounce things off each other for checks and balances, because it's not easy. It keeps us level-headed.
MAA: Your avenue has led you to owning and operating this successful business, Cam Automotive. What led you to a career in this particular field? 
JC: I was a business major in college. I liked cars, and I started working with the analytical side of the car industry. Numbers and cars were two of my strong points. While I was still in college, I opened a wholesale business in Baltimore with an engineering buddy of mine, still a close friend of mine, at Morgan State. It was kind of shaky. It didn't pan out the way I wanted it to be. I remember coming back to Lancaster about fourteen years ago and telling my father, "I want to try carrying a business on my own shoulders— My own vision." And that's where we come to today. But now I'm in real estate pretty heavily, too. I have a real estate company called Cam Renovations, a spinoff of Cam Automotive. I usually deal with dilapidated properties and bring them back to life. I've been doing that since 2016.
MAA: Last question: When are you going to play in the Joe Philo Alumni Classic, formerly known as the Alumni Basketball Games?
JC: (Laughs) That's a good one! I think I'll leave basketball where it was, I don't like to be embarrassed on the court too much!