All Booked Up: Celebrating 20 Years of Literacy Efforts
All Booked Up: Celebrating 20 Years of Literacy Efforts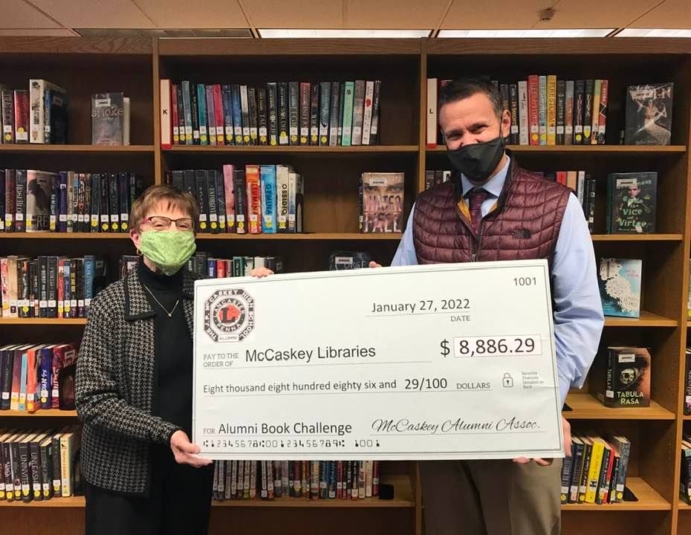 On January 27, McCaskey Alumni Association (MAA) President Jane Appleyard '62 presented a "big check" (literally and figuratively) to McCaskey Campus Principal Justin Reese in the JP Instructional Media Center (IMC). The photo-op celebrated the McCaskey Alumni Association's recent gift of $8,886.29 to the J.P. McCaskey Library System. As the Alumni Association redirects its literacy efforts toward supporting the Lancaster Education Foundation's "Hooked on Books" program, this recent gift represents its final donation to the high school libraries through its Alumni Book Challenge, a program that resourced the McCaskey libraries for 20 years.
Following the construction of McCaskey East in 1996 and the renovation of J.P. McCaskey High School in 1997, the McCaskey Campus suddenly found itself with a shortage of books to fill all the shelves of the newer, more modern resource centers. Monitoring the needs of the students, MAA decided to step in to help solve the problem. In 2002, it reached out to thousands of McCaskey Alumni and announced the launch of the Alumni Book Challenge, a campaign to collect donations for McCaskey Campus library books. Over $100,000 was netted by the program in its first five years alone. Annually, for the last two decades, it has encouraged its members to give back to their alma mater through the Alumni Book Challenge.
Over the last 20 years, with the library shelves becoming fuller and digital resources more prevalent, MAA now seeks to redirect its book drive efforts into helping its partner, the Lancaster Education Foundation (LEF), raise funds for Hooked on Books. This new program, begun by LEF, provides a different book every month of the school year to every second grader in the School District of Lancaster. It has been doing so since September of last year.
"I think it is great that the Lancaster Education Foundation and the McCaskey Alumni Association are working with the elementary schools, as that is where readers are created," said a McCaskey Campus digital resource specialist. "The redirection of the book challenge monies will definitely be appreciated at that level. Statistics show that if students are on reading level in 3rd grade, their graduation rates are significantly improved."
If you are interested in helping to provide every SDOL second-grader with a book every month of the school year, please donate to LEF's Hooked on Books program. As LEF says, "Help us inspire the readers of tomorrow, TODAY!"